Meet Sally

I am a Life Coach, a Color Wisdom Card Practitioner, and yes, even a Professor (political science, State University of New York at Albany). I use the Color Wisdom Cards to support clients in exploring priorities and taking concrete actions to stay on track with the goals they set. Because in my own life I have overcome a lot of self-doubt, I want to work with people towards more confidence and self-empowerment. You can do it! What is it you want to do?

Read the Times Union Nov 12, 2015 Feature on Sally
About the Color Wisdom Cards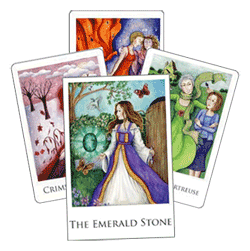 Sky Blue: Keyword, Expansion
Cherry Heart: Keyword, Acceptance
Emerald Stone: Keyword, Perception
Pretty cool, right, to think about reflecting on your life, your personal growth and your next steps through a set of colors, fables and meditations?
Developed by Tori Hartman, the color wisdom cards help you do just that. They ask you to think about your current circumstances, expand your intuition and provide a concrete tool to assist you in moving forward with next steps.
I got hooked on the cards because even though I can't see (I used to draw a lot as a kid although since then I have lost my vision), I am a sucker for understanding colors and for a good story. So what could be better than a tool that combines a set of colors and fables?
Personal growth is also important to me, and for me the value of the cards has been to provide a concrete way toward moving forward and feeling more centered and more positive in my own life, which honestly hasn't always been an easy task.
As a teacher (actually a professor of political science at the University of Albany) for almost 30 years and a life coach (PCC from Coaches Training Institute 2005) I really enjoy working with students (of the "life" as well as the university) and to develop their own perspectives and ideas, and I particularly find it meaningful to encourage individuals who happen to need a little extra attention (as did I) to appreciate their full potential.
As a coach, I believe we all know the answers that are right for us. It's the job of a coach to be a listener and a motivator and work with the client to bring to the surface things the client already knows and wants.
*In the fables, Sky Blue is one version of how the sky got its color; Cherry Heart is the story of a waitress who wants to better her life, and Emerald Stone is the story of a young girl whose journey outside her cloistered mansion teaches her how to break through her limitations and develop new perspectives on her life.
---